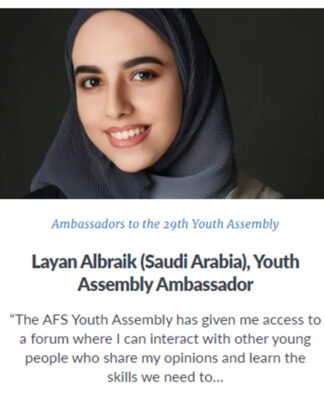 Alfaisal University's College of Medicine student, Layan Albraik, is selected to be the Saudi Youth Ambassador for the 2024 AFS Youth Assembly. Layan says, "The AFS Youth Assembly has given me access to a forum where I can interact with other young people who share my opinions and learn the skills we need to become the changemakers who work to build a sustainable society. Without a doubt, it has also had a huge impact on the call to action, where it is essential that all generations and cultures sit down at the same table to share our thoughts and knowledge."
The Youth Assembly is a global platform that grows an international network of young leaders and changemakers through exchange, education, action, and influence. The twenty-ninth session of the Youth Assembly, themed "Forge Our Shared Futures", is set to take place in New York the summer of 2024. Young Leaders will convene to discuss four core areas of consideration:
Global Shocks: Tackling Humanitarian Crises
Future of Education: Leveraging Technology & Innovation
Save our Planet: Unite for Climate Action
Food Security: Strengthen Global Food Systems
At Alfaisal, we are committed to collective action and partnerships for progress, transformative solutions and sustainable development. We are proud of Layan Albraik for representing us and the youth of Saudi Arabia at the Global stage. You can read more about her upcoming participation here
The post Layan Albraik Saudi Youth Ambassador for the AFS Youth Assembly appeared first on Alfaisal News.
المصدر