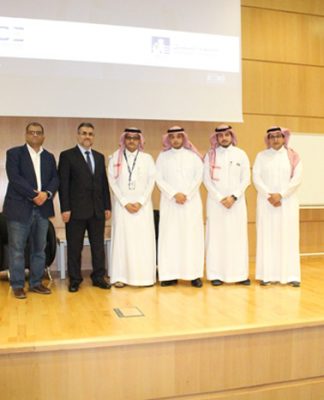 Monday 23rd Oct, 2018. 12:00-13:00 PM
Saudi Council of Engineers "Professional Examination Orientation" Tuesday, October 23rd, 2018 between 12:00-13:00 in the Lecture Theatre. An extensive discussion was followed over casual lunch.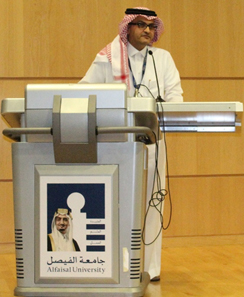 Saudi Council of Engineers representatives included: Eng. Ibrahim A. Al-Humoud, MBA, PMP, Engineering Professional Accreditation & Qualification General Manager at Saudi Council of Engineers.
The objective of the visit was to introduce the necessity of the Fundamentals of Engineering exam, a step required for all Engineers intending to work professionally under the Engineering profession. An orientation about different professional examinations available followed. Supporting material was distributed to students for review and preparation. CoE is seeking a mock exam step at Alfaisal in the coming few weeks.

In preparation for the visit, activities committee held a meeting with student representatives' entities such as ESA and ClickIt to prepare the students for the meeting and to gage students involvement. Consequently, student attendance as well as faculty was very good.
During the extensive discussion with SEC representatives, the following points were addressed:
SCE to help in facilitating summer internship and capstone project opportunities for AU's senior students
AU can provide academic services to professional examinations in selected fields of engineering
AU could provide consultation and research services in selected fields of engineering
AU can host future SCE events and joint activities with the industry, local universities, and professional organizations at Alfaisal University
SCE will exchange data related to market job demand in different engineering fields to help in guiding future plans. AU is looking for information and resources related to the Biomedical Engineering field.
The post Saudi Council of Engineers SEC visit & lecture to the College of Engineering appeared first on Alfaisal News.
المصدر